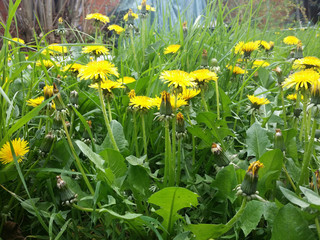 The Dandelion, plant without stem, spreading on the ground of the leaves finely cut is a very common species. Its flowers which are located at the end of a flowering stem show a golden yellow flower head, while its fluffy seeds "delight children they entertain and fill the bees with nectar ...",
If, in the 15th century, its properties do not seem to be known, it was not until the 16th century that a German apothecary and doctor in Paris, TAEBERNAEMON-TANUS, stated that "the dandelion constitutes a remarkable vulnerability".
Since then, folk medicine has recognized the root and dandelion leaves to stimulate liver functions, by direct action on the liver and on the gallbladder.
Its recognized diuretic properties, however, give way to aperitif, depurative and stomachic properties.
Latin name: Terexecum dens leonis
Family: Compounds
Vernacular names: Lion tooth, mole salad, gold florion, monk's crown
Origin: Europe
Part used: Root, leaf
Activities: Traditionally used to facilitate:
- eliminating bile and promoting digestion
- renal elimination of water - functions of elimination of water
Alternation: Orthosiphon - Horsetail