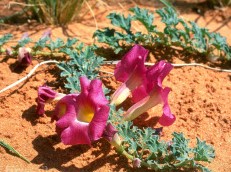 Harpagophytum is a herbaceous plant with radiant stems around a thick tuberous root.
Its solitary and large flowers have a yellow tube and a purple corolla. The fruit whose capsule is protected by curved thorns quickly takes on a formidable, clawed appearance, hence the popular name of "devil's claw".
Weed from the deserts of Kalahari (Bostwana) and Namibia, the Harpagophytum was described by BURCHELL in 1822 and by DE CANDOLLE in 1840.
However, it was thanks to the investigations of a German farmer, MEHNERT, that he was identified and that his healing and anti-rheumatic properties were highlighted.
Indeed, witnessing the healing of a warrior condemned by medicine and cared for by a sorcerer during the Hottentat revolt in 1504, he urged, before his refusal to indicate the name of the plant , his dogs in search of the miraculous root.
The plant first introduced in Germany, arrived in France from the east.
The dry drug described by VOLK consists essentially of roots with radial streaks of light beige color and bitter flavor.
Titrated extracts of Harpagophytum have been the subject of numerous recent clinical studies in hospitals. So it is used today, traditionally, for its anti-inflammatory properties in joint pain.
In addition, Harpagophytum does not cause the side effects (stomach upset) associated with the use of chemical anti-inflammatory drugs.
Latin name: Radix harpagophytum procumbens
Family: Pedaliaceae
Vernacular names: Griffe du diable
Origin: South Africa
Part used: Secondary root
Activities: Traditionally used in painful joint manifestations
Alternation: Reine des Prés - Cassis