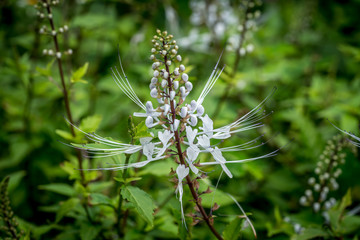 A small shrub, the Orthosiphon shows blooming white inflorescences which quickly turn purplish blue.
These gradually bloom from the bottom up.
It is the very particular length of its stamens which extend beyond the corolla of the flower that the Orthosiphon owes its Malay name of "cat mustache".
Plant also used for its decorative properties, we traditionally use the leaf decocted. The Indigenous people of Java take special care in picking and drying the leaves in order to preserve their aromas and therapeutic properties.
As early as 1926, the Dutch inscribed the Orthosiphon on their pharmacopoeia. Indeed, settled in India, their colonists quickly retained the plant for its diuretic properties that demonstrated traditional use.
In France, the first studies by PERINELLE and Professor GUYOU date back to 1887. The works of MERCIER, DECAUX and LECLERC will corroborate them, so Orthosiphon stamineus will appear in the French pharmacopoeia of 1935.
The leaves of Orthosiphon contain potassium, which is included in organic complexes. Used as a diuretic, they drain the body of toxins that invade it. It is also used in all arthritic manifestations and in sedation of painful urinary manifestations.
Latin name: Orthosiphon stamineus
Family: Labiés
Vernacular names: Java tea. The Malaysian name Koemis koeljuig means "cat mustache"
Origin: Shrub of South Asia and Indonesia
Part used: Sheet
Activities: Traditionally used to facilitate:
- renal elimination of water
- weight loss
- the elimination functions of the organism
Alternation: Dandelion