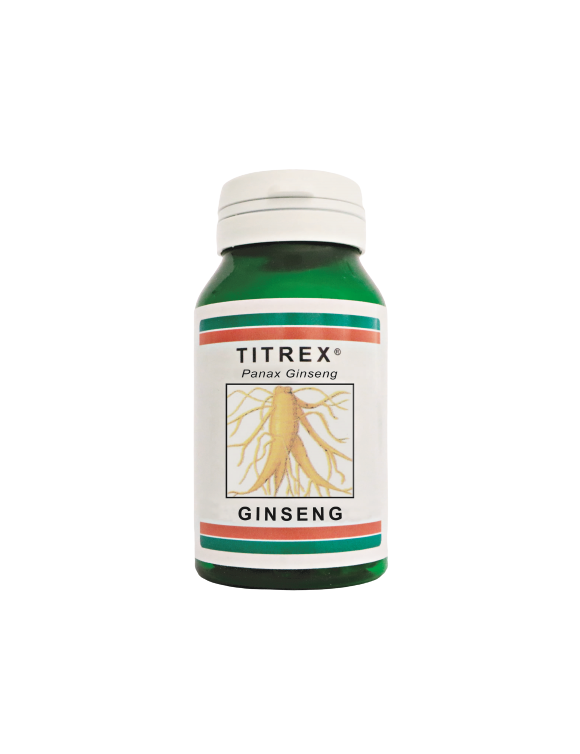  
Ginseng TITREX®
Ginseng:
 - Stimulates physical and intellectual performance
 - Strengthens vitality
Garanties sécurité

Politique de livraison

Politique retours
Properties of Ginseng:
Ginseng contains energizing components which:
 - make it an adaptogenic plant

 - promote resistance to fatigue and stress

 - stimulate brain functions.

 - contribute to the restoration of mental well-being.
A clinical study on our extract carried out by pharmacists and clinical doctors has given the following results:
PANAX GINSENG taken in the form of capsules of 150 mg of powdered extract titrated in active ingredients, at a rate of 3 capsules per day, has favorable effects on the performance of athletes in an endurance event such as the marathon.
The most spectacular being the improvement in V02 max (+ 60%) and that of the time achieved
(19 min less) by the 4 participants on GINSENG compared to the other four marathon runners who will only win 2 minutes on average on their best time.
Composition for 2 capsules of 300mg:
Ginseng extract (Panax Ginseng): 400mg
Excipients: gelatin in the capsule, magnesium stearate, sodium carbonate
Take 2 capsules a day during 15 days
Phytoflor® products are not drugs.
Do not give to children under 12, pregnant or lactating women without medical advice.
Do not exceed the recommended dose.
Store in a dry place away from heat and out of the reach of children.
Food supplements should not replace a diversified diet.