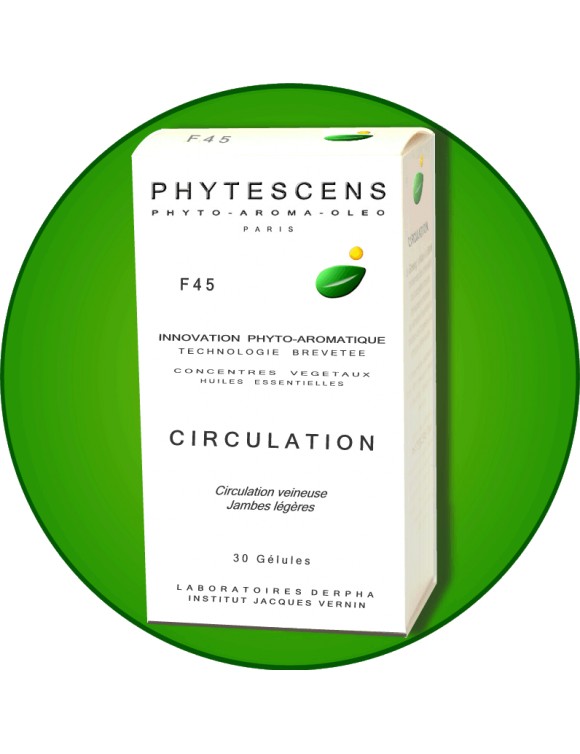  
Circulation F45 Phytescens

  Blood Circulation

  For heavy legs

  In case of unpleasant sensations
Garanties sécurité

Politique de livraison

Politique retours
Properties of the plants :
Horse Chestnut, Butcher's Broom, Red Wine and Cypress  produce components that promote :

  - resistance and decongestion of the blood vessels,

  - fluidity of blood

  - micro-circulation.

Phytescens F45 Circulation:

  promotes circulation.

  makes the legs light.

  helps fight against venous discomfort

  decreases the sensation of tingling.
Ingredients for 2 capsules of 525mg (2 capsules correspond to the extraction of 6200mg of dried plant): 

  Concentrated extract of Horse Chestnut : 200 mg

  

 Concentrated extract of Butcher's Broom : 200 mg

  Concentrated extract of Red Wine : 200 mg

  

  Micro-encapsulated essential oil of Cypress : 60 mg

 Excipients : microcrystalline cellulose, silica, monosodium carbonate.

 
Product guaranteed GMO-free, dye-free and preservative-free and not tested on animals.

Bottle of 30 capsules
In punctuation: Take 2 capsules a day, in one take with a large glass of water when discomfort occurs.
The plug can be exceptionally renewed during the day if needed.

Usable punctually or as cures for 3 weeks.
The PHYTESCENS products are not drugs.

Do not give to children under 12, pregnant or breastfeeding women without medical advice.
Do not exceed the recommended dose.
Store in a dry place away from heat and out of the reach of children.
Dietary supplements should not be a substitute for diversified diet.
You might also like
circulation
Paradoxe...
  Free radical scavenger   Anti-oxidants   Protection of the vascular system.   The benefit...
beauty
Oméga 3-6...
  Essential Omega 3 and Omega 6 (4/1)   Beauty of hair,   Moisturizing the skin   100%...