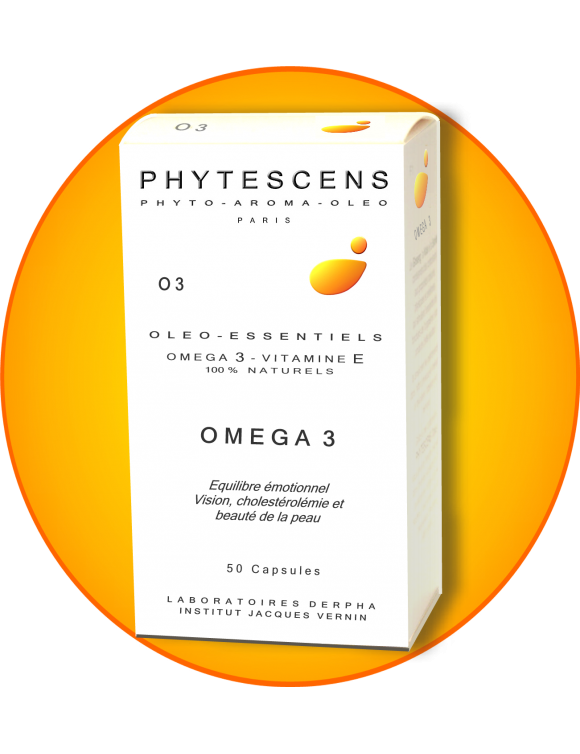  
Oméga 3 Phytescens Oléo-Essentiel

  Guaranteed content of omega 3 essential fatty acids (EPA 90mg, DHA 60mg per capsule), 100% natural

  Brain nutrient found in breast milk,

  Promotes normalization of blood triglycerides and fluidity of blood

  Rebalancing of the mood,

  Guaranteed without heavy metals and without ethyl esters
Garanties sécurité

Politique de livraison

Politique retours
Properties of Omega 3 :

  Omega-3s are found in breast milk and contribute to the growth and health of the brain, nervous system, heart and blood vessels.

  also promote hydration and soften sensitive and dry skin.

  promote the normalization of blood triglycerides, fluidity of blood and lowering of cholesterol.
According to the European Food Safety Authority: Long-chain omega-3 (n-3 LCPUFA) polyunsaturated fatty acids - such as eicosapentaenoic acid (EPA), docosahexaenoic acid (DHA) and docosapentaenoic acid (DPA) - play an important role in growth and development of the brain, regulation of blood pressure, renal function, coagulation and immunological and inflammatory reactions "
Phytescens Omega 3 :

  is a noble cold sea fish oil selected for its guaranteed content of omega 3 essential fatty acids (EPA 90mg, DHA 60 mg per capsule), 100% natural, active and assimilable by the body.

  is guaranteed without heavy metals and without ethyl esters.
3 other products in the same category:
bright-mind
Strs F7 Phytescens
  Stress management and lucidity   Intellectual performances   A clear mind with a relaxed body
bright-mind
Sleep F3...
  Fast sleep   In case of night alarm   Restorative sleep   Natural wake up and fit
bright-mind
Serene F11...
  Brings the mental and physical energy   To get out of depression tunnel.   To recover...