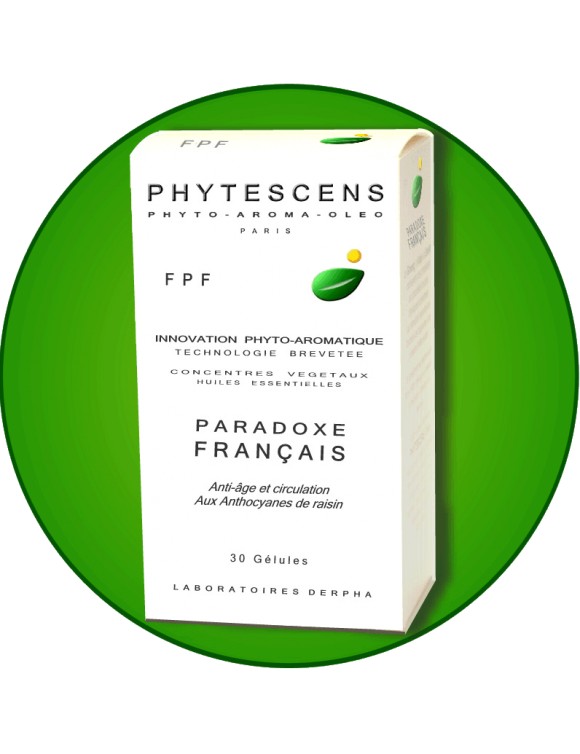  
Paradoxe Français FPF Phytescens

  Free radical scavenger

  Anti-oxidants

  Protection of the vascular system.

  The benefit of wine without alcohol.
Garanties sécurité

Politique de livraison

Politique retours
Properties of the plants :
Red Wine, Anthocyanins from Grape and Cypress produce components that promote protection of the body against oxidation and aging caused by free radicals.

Phytescens FPF Paradoxe Français :

  brings you daily, the benefits of wine, without alcohol,

  has a protective action on your circulatory system in general and that of micro-vessels of your eyes in particular

  helps protect your body from aging caused by exposure to free radicals oxidants.
Ingredients for 2 capsules of 595mg (2 capsules correspond to the extraction of 2380 mg of dried plants):



  Concentrated extract of Red Wine : 600 mg



  Grape anthocyanins: 200 mg

  Micro-encapsulated essential oil of Cypress : 12 mg

 Excipients : microcrystalline cellulose, silica, monosodium carbonate.

 
Product guaranteed GMO-free, dye-free and preservative-free and not tested on animals.

Bottle of 30 capsules
Take 2 capsules a day during 15 days.
Stop 1 week and then you can take it again.
The PHYTESCENS products are not drugs. 
Do not give to children under 12, pregnant or breastfeeding women without medical advice. 
Do not exceed the recommended dose. 
Store in a dry place away from heat and out of the reach of children.
Dietary supplements should not be a substitute for diversified diet.