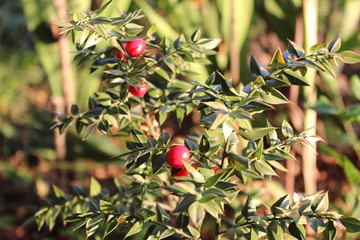 It is a perennial shrub, with evergreen leaves, present in dry undergrowth and slope.
Its leaves are reduced to pieces in the shape of scales. Its flowers are purplish and its dark red fruits or berries are well known and attract the attention of walkers.
Known since ancient times, VIRGILE used it for its diuretic properties. Dioscorides proposed to use leaves and berries in the form of medicinal wine or its roots in the form of decocted, in indications relating to venous disorders.
The active ingredients of the root or rhizome consist of an essential oil, potassium, calcium and finally saponosides. These make Petit Houx a powerful vasoconstrictor and venous protector.
Many pharmaceutical specialties marketed in Europe use the titrated extract of this plant as the active ingredient.
Latin name: Ruscus aculeatus
Family: Liliaceae
Vernacular names: Fragon épineux, Houx frelon
Origin: Europe
Part used: Racine
Activities: Traditionally used to reduce the feeling of heavy legs or the discomfort of hemorrhoids
Alternation: Horse chestnut - Red vine