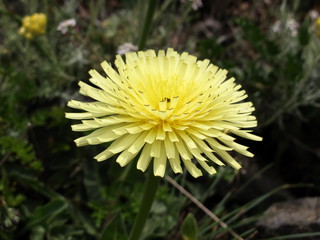 The Piloselle is a perennial plant with yellow flowers belonging to the family of compounds. It is found more particularly on rock gardens and high meadows where it forms vast sheets dotted with yellow flower heads.
The hairy leaves of Piloselle are characterized by a curved shape, hence the popular name "mouse ear".
The first references to the Piloselle date back to the Middle Ages (12th century), when Sainte Hildegarde mentions it as having "tonicardiac" properties,
However, Piloselle classically belongs to the Landes "peasant pharmacopoeia" and, as such, was used as a diuretic. If its diuretic properties have been emphasized by the medical world, it also has choleretic and cholagogic properties. According to folk medicine, it will also help fight nosebleeds.
Latin name: Hieracum pilosella
Family: Compounds
Vernacular names: Hawkweed, rat ear, mouse ear
Origin: Europe
Part used: whole plant
Activities: Traditionally used to facilitate:
- renal elimination of water
- the elimination functions of the organism
Alternation: Orthosiphon - Dandelion