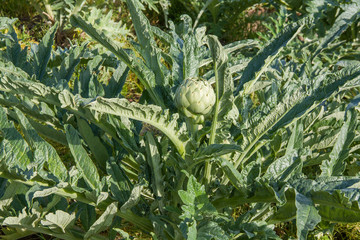 They claim the artichoke next to the red cardoon; it is in fact the mutant of this species which appeared in the 15th century.
In the centuries that followed, it was considered a diuretic and aphrodisiac, specific for "jaundice" and considered a rare vegetable.
Today, abundantly cultivated in our gardens, it owes its fame to the work of several French doctors.
In the 1950s, J. BREL specified three main properties:
- choleretic since it develops the production of bile,
- cholagogue because it facilitates its evacuation to the intestine,
- and finally. diuretic since it promotes the elimination of water.
LECLERC and TIXIER say that the artichoke, with its properties verified in therapy, constitutes "one of the most beautiful conquests of phytotherapy".
The artichoke is therefore the very example of a plant whose reputation and traditional use have been verified over the centuries by numerous studies.
Having become invaluable in the treatment of liver disorders and renal elimination, it therefore forms part, in a noble place, of our arsenal of phytotherapy specialties.
Latin name: Cynara scolymus
Family: Compounds
Origin: Europe
Part used: Sheet
Activities: Traditionally used to facilitate:
- eliminating bile and promoting digestion
- renal elimination of water
- the elimination functions of the organism
Alternation: Dandelion - Bourdaine