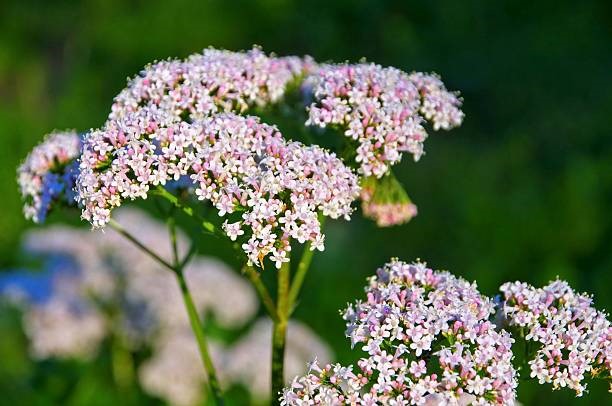 This small herbaceous plant with a gigantic root is a widespread species in Europe, Asia and North America
Described by PLINE in the treatment of nerve contractions, Italian doctors used it in the 17th century as an antispasmodic.
Popular usage has, however, retained its pronounced calming properties. .
Valerian is cultivated in the open field and it is not until the second year that its roots are uprooted and allowed to dry at a maximum temperature of 35 °. It is during drying that valerian emits its penetrating odor, which puts cats to flight.
Its constituents: alkaloids, essential oil, organic acid esters, valeric and isovaleric acids make it a hypnotic of choice which help to remove worries and disturbances linked to the imagination.
Its various properties1 allow it to be used for various applications:
Musculotropic antispasmodic (tachycardia) and neurotropic (infantile convulsions, hot flushes, digestive spasms)
Sympatholitic and parasympatholitic (anxiety, nervousness)
Nerve sedative (neuro-vegetative dystonia)
Mild hypnotic (insomnia)
Small dose brain stimulant
Latin name: Valeriana officinalis
Family: Valerianaceae
Vernacular names: Cat grass, Little valerian, Saint Georges grass
Origin: Northern Europe
Part used: Root
Activities: Traditionally used to reduce the nervousness of adults and children, especially in case of sleep disorders.
Alternation: Hawthorn - Passionflower
1: Summary of Phytotherapy Doctors Lapraz and Durrafour