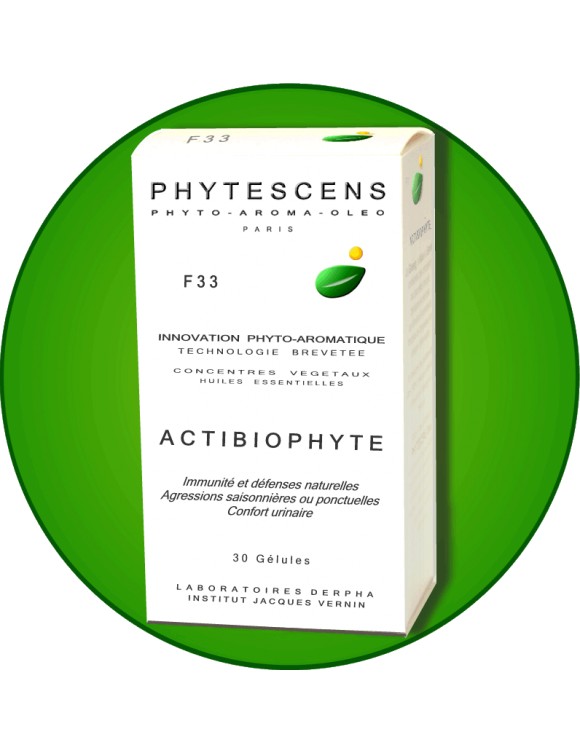  
Actibiophyte F33 Phytescens

   Seasonal or occasional aggression

  Flu, cold, angina...

  Infections, Cystitis, Herpes

  To strengthen natural defenses and immunity
Garanties sécurité

Politique de livraison

Politique retours
Properties of plants :
   -  Niaouli, Thyme, Savory produce essential components to protect against the attacks of viruses, yeasts, mold, bacteria and to trap free radicals.
   -  Horsetail promotes the body's response to aggression.

Phytescens F33 Actibiophyte:

  promotes the fight against seasonal or punctual attacks and infections.

  helps strengthen the natural defenses.
Ingredients for 6 capsules of 525mg (6 capsules correspond to the extraction of 3150 mg of dried plant):



  Concentrated extract of Horsetail : 600 mg



   Micro-encapsulated essential oil of Niaouli: 180 mg

  Micro-encapsulated essential oil of Savory : 180 mg

   Micro-encapsulated essential oil of Thyme : 180 mg

Excipients : microcrystalline cellulose, silica, monosodium carbonate.

 
Product guaranteed GMO-free, dye-free and preservative-free and not tested on animals.

Bottle of 30 capsules

  In preventive: take 1 or 2 capsules a day for 15 days to 3 weeks.

   Internal use: If symptoms are present (at level of the throat, nose, urinary discomfort, tingling announcing a rash on the lip ...), take for the first dose: 2 capsules to make a dose of attack. If necessary, this can be renewed in 4 hours.

   External use:
            - In case of rash : open a capsule, add a drop of water to a little of its contents to make a mash and spread the preparation on the previously moistened area. To let do. Benign tingling can be felt. Do this morning and night until the rash disappears.
            -
In gargle or mouthwash : open a capsule in a glass of hot water.
            - Inhalation: put one capsule in the very hot water of an inhaler. The components will gradually release for about twenty minutes and allow an effective and prolonged inhalation.
The PHYTESCENS products are not drugs.

Do not give to children under 12, pregnant or breastfeeding women without medical advice.
Do not exceed the recommended dose.
Store in a dry place away from heat and out of the reach of children.

Dietary supplements should not be a substitute for diversified diet.
You might also like
vitality-immunity
Tonus F1...
  Physical, intellectual and sexual tone   Quickly optimizes the energy needed...