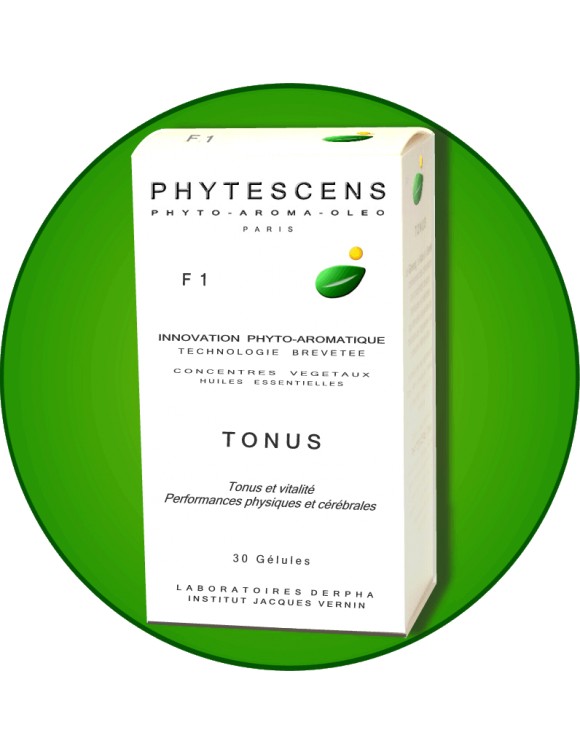  
Tonus F1 Phytescens

  Physical, intellectual and sexual tone

  Quickly optimizes the energy needed

  Non-exciting stimulant
Garanties sécurité

Politique de livraison

Politique retours
Properties of plants:
Ginseng, Kola and Savory contain components with tonic, physical and cerebral properties, which stimulate all of the body's functions, without producing an exciting effect.
These components improve performance in physical and intellectual effort and promote attention and memory..



Phytescens F01 Tonus:

 promotes physical, intellectual (memory, fatigue) and sexual tone

 quickly optimizes the necessary energy in various situations of daily life (pace of work, concentration during the preparation of exams, sports effort, daily life, evening ...))

 taken in the evening, will not interfere with your sleep when you go to bed.
Ingredients for 2 capsules of 475mg (2 capsules correspond to the extraction of 7420mg of dried plant):

 

  Concentrated extract of Ginseng : 220 mg

 

  Concentrated extract of Kola : 220 mg

 

  Essential oil of Savory : 64 mg

Excipients: microcrystalline cellulose, silica, monosodium carbonate.



Guaranteed GMO free, colorant and preservative free and not tested on animals.

Bottle of 30 capsules
Take 2 capsules a day, in one take with a large glass of water when the need arises.
Can be taken at any time of the day, both in the morning and in the evening (will not create any sleep disorder)

Usable punctually or in the form of cures of 3 weeks.

 PHYTESCENS products are not drugs .
 Do not give to children under 12, pregnant or breastfeeding women without medical advice.
 Do not exceed the recommended dose .
 Store in a dry place away from heat and out of the reach of children.
 Food supplements should not replace a diversified diet.