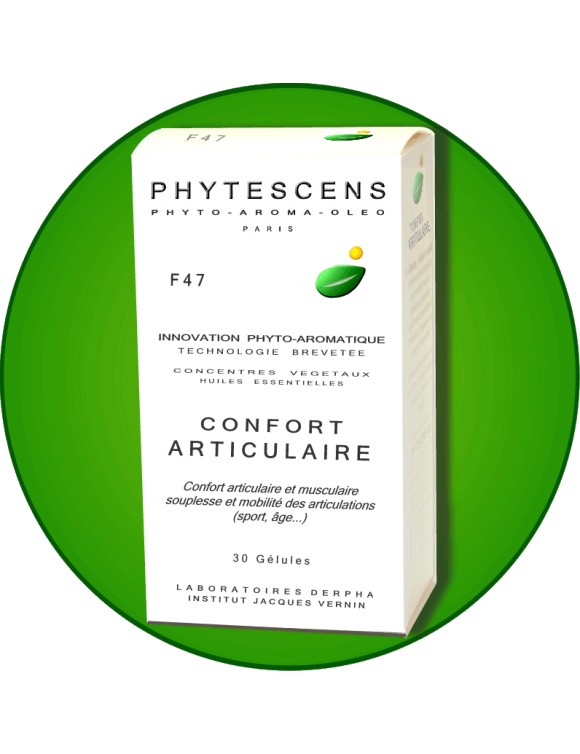  
Confort Articulaire F47 Phytescens

  Articular pains due to age, sport..

  Aches

  Inflammatory process
Garanties sécurité

Politique de livraison

Politique retours
Plant processes and properties:
  -  The cartilage wear due to age or the practice of intensive sport, causes the production of enzymes (collagenases, elastases) that attack cartilage and elastic fibers.
  -  Harpagophytum , Meadowsweet  and Eucalyptus Citrin produce components that trap these free radicals and help soothe unpleasant sensations or joint or muscle discomfort.

Phytescens F47 Articular Comfort:

  promotes reduction of joint and muscle discomfort due to age, sport or an inflammatory process

  usable before or after an effort

  relieves incident case.
Ingredients for 2 capsules of 470mg (6 capsules correspond to the extraction of 20 880mg of dried plant): 

  Concentrated extract of Harpagophytum : 840 mg

  

  Concentrated extract of Meadowsweet : 840 mg

  

  Micro-encapsulated essential oil of Eucalyptus Citrin : 204 mg

 Excipients : microcrystalline cellulose, silica, monosodium carbonate.

 

Product guaranteed GMO-free, dye-free and preservative-free and not tested on animals.

Bottle of 30 capsules
In punctual: Take 2 capsules a day, in one take with a large glass of water when discomfort occurs.
If exceptionally you feel the need, the catch can be renewed every 4 hours.
Usable punctually or in form of courses of 3 weeks.
You can reduce to 1 capsule per day for maintenance.
As a preventive : Can be taken as a preventative before going to play sports or any other activity that can cause a gene.
The PHYTESCENS products are not drugs.

Do not give to children under 12, pregnant or breastfeeding women without medical advice.
Do not exceed the recommended dose.
Store in a dry place away from heat and out of the reach of children.

Dietary supplements should not be a substitute for diversified diet.
You might also like
articular-pains
Complexe ADE...
  Guaranteed content of omega 3 essential fatty acids (EPA 90mg, DHA 60mg per capsule), 100%...