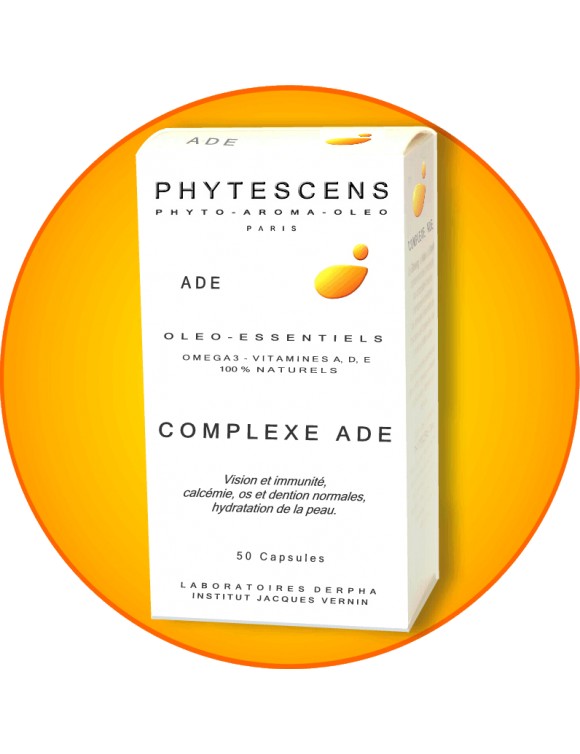  
Complexe ADE Phytescens Oléo-Essentiel

  Guaranteed content of omega 3 essential fatty acids (EPA 90mg, DHA 60mg per capsule), 100% natural

  Omega 3 natural

  Fight against aging

  Night vision

  Bone mineralization
Garanties sécurité

Politique de livraison

Politique retours
Properties :
Liver oil from noble fish of cold seas :

  is rich in essential fatty acids omega 3 and vitamins A, D and E, 100% natural and assimilable,

  traps inflammatory free radicals responsible for aging

  its natural antioxidant vitamins A and E, protect cell membranes from the oxidation caused by solar rays that accelerate aging and help night vision,

  promotes bone growth and consolidation by fixing calcium (provided by food) in the bone.

The + beauty : Omega 3s promote hydration and soften sensitive and dry skin.

Phytescens Complexe ADE :

  dosed in Vitamins A, D and E 100% assimilable ,

  antiradical,

  helps fight against aging,

  promotes bone mineralization by helping to fix dietary calcium.
Ingredients for 2 capsules of 708mg :


Fish liver oil from cold seas : 500 mg

              

Vitamin A    : 150 µg = 495 IU (18,5% des NRV*)

Vitamin D3 : 1,25 µg = 4125 IU (25% des AJR)

Vitamin E   :  0,34 mg  (2,8% des AJR)
* NRV : Nutrient Reference Value.
Bottle of 50 capsules
Guaranteed product without Ethyl Esters little assimilable, without heavy metals, without dye or preservative..
  Take 2 capsules daily , in one take with a large glass of water.
  Usable in cures of 3 weeks.
The PHYTESCENS products are not drugs.

Do not give to children under 12, pregnant or breastfeeding women without medical advice.
Do not exceed the recommended dose.
Store in a dry place away from heat and out of the reach of children.

Dietary supplements should not be a substitute for diversified diet.
You might also like
articular-pains
Confort...
  Articular pains due to age, sport..   Aches   Inflammatory process