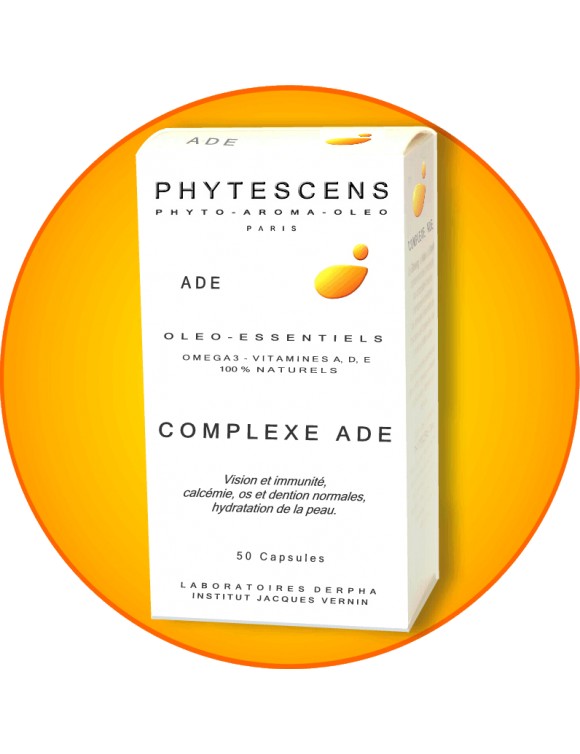  
Complexe ADE Phytescens Oléo-Essentiel

  Guaranteed content of omega 3 essential fatty acids (EPA 90mg, DHA 60mg per capsule), 100% natural

  Omega 3 natural

  Fight against aging

  Night vision

  Bone mineralization
Garanties sécurité

Politique de livraison

Politique retours
Properties :
Liver oil from noble fish of cold seas :

  is rich in essential fatty acids omega 3 and vitamins A, D and E, 100% natural and assimilable,

  traps inflammatory free radicals responsible for aging

  its natural antioxidant vitamins A and E, protect cell membranes from the oxidation caused by solar rays that accelerate aging and help night vision,

  promotes bone growth and consolidation by fixing calcium (provided by food) in the bone.

The + beauty : Omega 3s promote hydration and soften sensitive and dry skin.

Phytescens Complexe ADE :

  dosed in Vitamins A, D and E 100% assimilable ,

  antiradical,

  helps fight against aging,

  promotes bone mineralization by helping to fix dietary calcium.
You might also like
articular-pains
Confort...
  Articular pains due to age, sport..   Aches   Inflammatory process
5 other products in the same category: