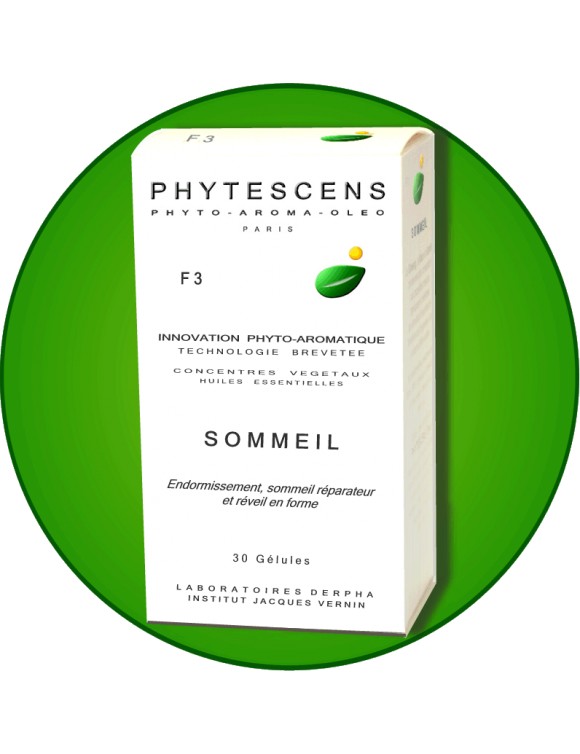  
Sleep F3 Phytescens

  Fast sleep

  In case of night alarm

  Restorative sleep

  Natural wake up and fit
Garanties sécurité

Politique de livraison

Politique retours
Properties of the plants:

Red Poppy, California Poppy produce components that attach to sleep receptors, promote sleep
Petit Grain E.O. promotes the production of ß-endorphins (naturally soothing components) by the body.

Phytescens F03 Sleep:

  Promote sound sleep without "brain fog" upon awakening.

  A unique combination between herbal extracts and essential oil to support both the initiation and maintenance of normal sleep with natural awakening.
Ingredients for 2 capsules of 550mg (2 capsules correspond to the extraction of 7420mg of dried plant):

 

  Concentrated extract of Red Poppy : 270 mg

 

  Concentrated extract of California Poppy : 270 mg

 

  Essential oil of Petit Grain : 64 mg

Excipients: microcrystalline cellulose, silica, monosodium carbonate.



Guaranteed GMO free, colorant and preservative free and not tested on animals.

Bottle of 30 capsules
 Take 2 capsules a day in one take before going to sleep
 Take it only in the evening

 Usable punctually or in the form of cures of 3 weeks.

 PHYTESCENS products are not drugs .
 Do not give to children under 12, pregnant or breastfeeding women without medical advice.
 Do not exceed the recommended dose .
 Store in a dry place away from heat and out of the reach of children.
 Food supplements should not replace a diversified diet.