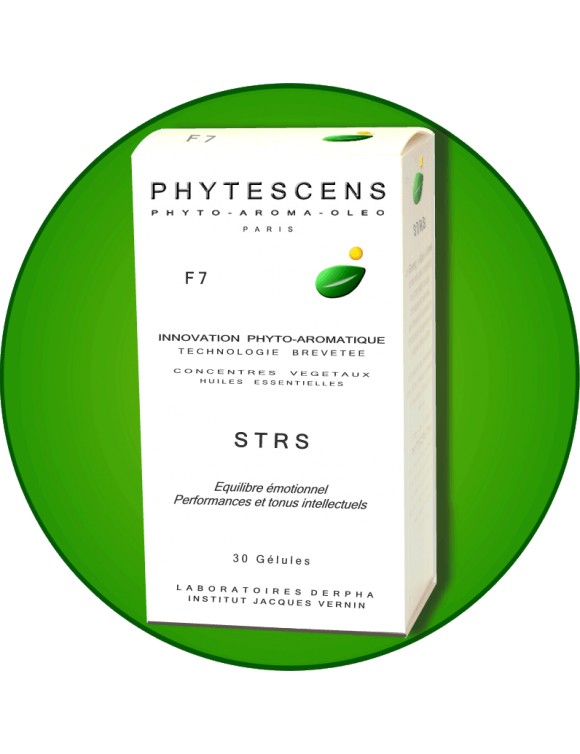  
Strs F7 Phytescens

  Stress management and lucidity

  Intellectual performances

  A clear mind with a relaxed body
Garanties sécurité

Politique de livraison

Politique retours
Properties of the plants :
Beta maritima andGinseng contain the components (lithium, magnesium and rubidium) that trigger the production of melatonin, precursor of serotonin and facilitate the passage of nerve impulses.
Petit Grain promotes the production of ß-endorphins (naturally soothing components) by the body.

Phytescens F07 Strs :

  For stress resistance and reduction while maintaining brain alertness.

  A unique aid that relaxes the nervous system and produces naturally calming beta endorphins that reduces stress.

  It preserves the mental alertness beneficial to students, executives and for today's fast, pressure-filled life-style and acts as a complete recovery system.

  A clear mind with a relaxed body.

  Relieves anxiety, nervous tension or occasional stress without side-effects.

  In slimming help :
               -  will help curb the urge to snack. .
               -  to be combined with the product Phytescens F100 D.Pur to promote elimination.

  In case of ultra-sensitive or reactive skin :
               -  The skin is the mirror of the state of the liver.
               -  When the elimination functions of the body are saturated by stress or diet, the skin serves for the elimination of toxins in the form of various eruptions.
               -  In these situations, the products F100 D.Pur and F07 Strs favoring the elimination functions, can help the return to a clear skin.
Ingredients for 2 capsules of 550mg (2 capsules correspond to the extraction of 6540mg of dried plant): 

  Concentrated extract of Beta maritima : 620 mg

 

  Concentrated extract of Ginseng : 100 mg

 

  Micro-encapsulated essential oil of Petit Grain : 64 mg

 Excipients : microcrystalline cellulose, silica, monosodium carbonate.

 

Product guaranteed GMO-free, dye-free and preservative-free and not tested on animals.

Bottle of 30 capsules
  Take 2 capsules a day, in one take with a large glass of water when the need arises.
  The catch can be renewed during the day if necessary.

  Usable punctually or in the form of cures of 3 weeks.

 PHYTESCENS products are not drugs .
 Do not give to children under 12, pregnant or breastfeeding women without medical advice.
 Do not exceed the recommended dose .
 Store in a dry place away from heat and out of the reach of children.
 Food supplements should not replace a diversified diet.
You might also like
bright-mind
Sleep F3...
  Fast sleep   In case of night alarm   Restorative sleep   Natural wake up and fit
elimination
D.Pur F100...
  Elimination of waste and toxins   Help with weight loss   Facilitates digestion .   Quality...