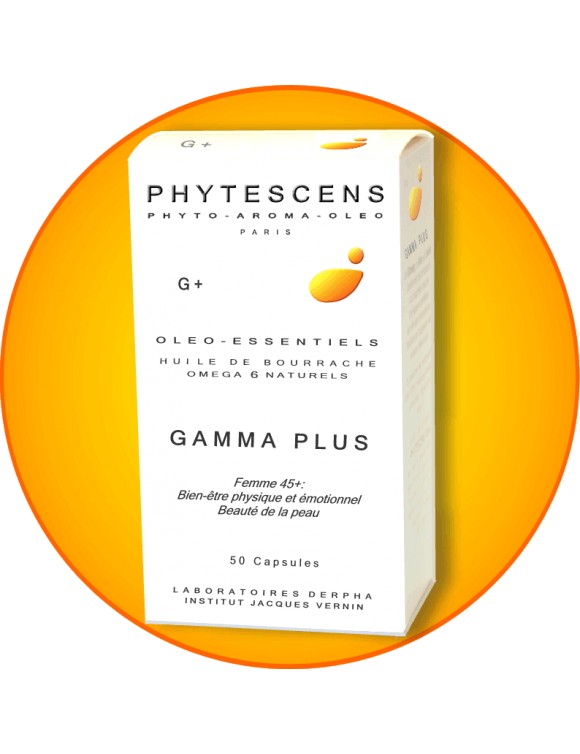  
Gamma + Phytescens Oléo-Essentiel

  Borage oil rich in Omega 6

  Moisturizing skin and mucous membranes

  Regulation of mood during menopause
Garanties sécurité

Politique de livraison

Politique retours
Properties of the oil of borage:

  Borage oil is very rich in essential fatty acids of the omega 6 (cis) series and in particular in gamma linolenic acid which contributes to the good condition of the skin, the blood vessels of the bones and the mucous membranes.
Ingredients for 2 capsules of 705mg :



Borage oil : 1000 mg
                of which gamma-linolenic acid Omega 6 : 220mg

Vitamin E : 30mg (100% of NRV)
* NRV : Nutrient Reference Value.
Bottle of 50 capsules
Guaranteed product without Ethyl Esters little assimilable, without heavy metals, without dye or preservative.
Take 2 capsules daily, in one take with a full glass of water.
15 consecutive days per month (16th to 30th day of the month) or 1 month out of 2.
PHYTESCENS products are not drugs.
Do not give to children under 8, pregnant or breastfeeding women without medical advice.
Do not exceed the recommended dose.
Store in a dry place away from heat and out of the reach of children.
Food supplements should not be a substitute for a diversified diet.