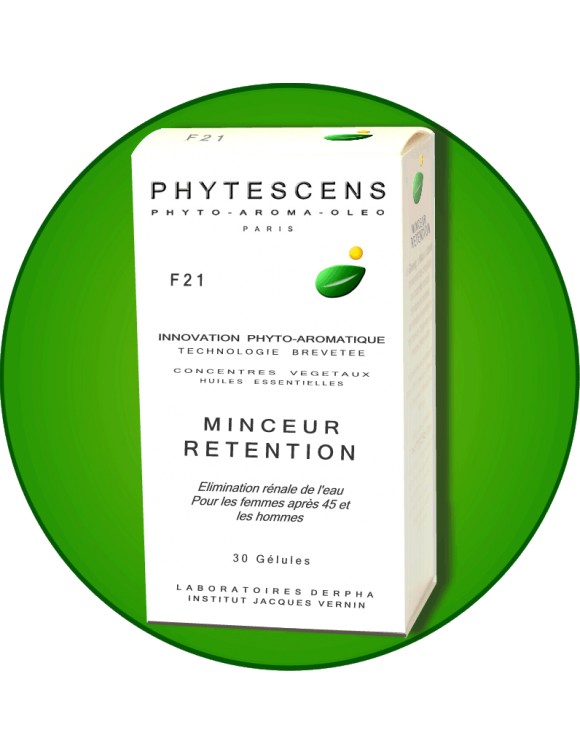  
Minceur-Rétention F21 Phytescens

  Renal elimination of water

  In case of swelling due to hormonal imbalance

  In case of water retention
Garanties sécurité

Politique de livraison

Politique retours
Properties of the plants :
Aglae-Fucus, Orthosiphon, Sage, Sclary Sage and Green Tea produce components that support the renal elimination functions of the water retained in the body.
Sage and Sclary Sage contain components that promote the renal elimination of water.
Guaranteed without soya

Phytescens F21 Minceur-Rétention:

  promotes the functions of renal elimination of water,

  helps to drain water retention for people suffering

  after menopause, helps to decrease the swelling sensation due to hormonal imbalance.
Ingredients for 2 capsules of 600mg (2 capsules correspond to the extraction of 6560mg of dried plant): 

  Concentrated extract of Fucus : 200 mg

 

  Concentrated extract of Orthosiphon : 200 mg

 

  Concentrated extract of Green Tea : 200 mg

 

  Concentrated extract of Sage : 200 mg

 

  Micro-encapsulated essential oil of Sclary Sage : 56 mg

 Excipients : microcrystalline cellulose, silica, monosodium carbonate.

 

Product guaranteed GMO-free, dye-free and preservative-free and not tested on animals.

Bottle of 30 capsules
Take 2 capsules a day during 15 days.
You can renew 1 week later
PHYTESCENS products are not drugs .
Do not give to children under 12, pregnant or breastfeeding women without medical advice.
Do not exceed the recommended dose.
Store in a dry place away from heat and out of the reach of children.
Food supplements should not replace a diversified diet.
You might also like
elimination
D.Pur F100...
  Elimination of waste and toxins   Help with weight loss   Facilitates digestion .   Quality...
menopause
Gamma +...
  Borage oil rich in Omega 6   Moisturizing skin and mucous membranes   Regulation of mood...